Campground Rates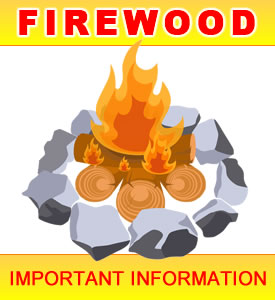 To help save our trees from evasive bugs and disease, NO FIREWOOD MAY BROUGHT IN. This also includes cut offs and treated lumber. Please help us keep our trees safe and healthy.

Firewood is available at the office for $5.00 per bundle
Type

Day

Weekly

Camper and RV Sites
$38 per day
$228 per week (May 20 - Sept 20)
Off Season
$30 per day
$180 per week
All Camper and RV sites come with Water, Sewer and Electric hook ups.
Type

Monthly

Seasonal

Extended Stay Camper and RV Sites
$850
$2,575
All Camper and RV sites come with Water, Sewer and Electric hook ups.
Type

Day

Weekly

Tenting/Primitive Sites
$30 per day
Currently no weekly rate.
Tenting/Primitive Sites have no hook-ups. Additional tents put on a tent site are $20 per night. The daily rate is for 4 people. There is a $2.00 per day / per person fee for extra people in the site or visitors. All visitors must be registered at the office and have a car pass.
CHECK IN TIME IS 11:00 AM
3 night minimum stay for the weekends of Memorial Day, 4th of July, Hodag and Labor Day.
The above rates are quoted for a family of 4 or less.
$2 a day for each extra occupant. Children 3 years and under are FREE.
If you plan to use your air conditioner or electric heater there is a charge of $3 a day extra.
Cash or Check only - Sorry, no credit card machine.
We are a Passport America Park!


Home | Reservations | Campground Information | Campground Rates | Campground Map | Campground Rules
Campground Amenities | Cabin Rates | Cabins | Gallery | Location | Links | Contact Us
©2023 West Bay Camping Resort
P.O. Box 338
4330 South Shore Drive
Rhinelander, Wisconsin 54501
Phone: 715-362-3481
Disclaimer: All information is deemed reliable but not guaranteed and should be independently verified. West Bay Camping Resort and By Request Web Designs shall not be held liable for any typographical errors, misinformation, or misprints.
Site Design By: